Ancient fortress "Peristera"
from
Katerina
in
Get to know Bulgaria!
Visits 1537
17 April, 2019
Peristera is a fortress located in the town of Peshtera, Bulgaria. It is located on the hill "Sveta Petka", occupies an area of about 15 decares and has a clearly separated citadel, inner city and sub-building.
Researching the place I came across two legends about how the name of the fortress originated.
The first reads as follows: "When christianity was introduced in the byzantine empire in 313, the local inhabitants had to choose which of the hills in the area to build their church. Thus from the hill of St. Petka a flock of pigeons." So perhaps the fortress is called the Peristera, which in translation from greek means "pigeon","gigeon place".
The second legend dates back somewhere from the 4th century, when a maiden jumps from the cliffs of the fortress trying to escape the roman wars that toured to take the area. In the dark, from the cliffs, silhouette her it to a white pigeon. One of the signs in the fortress reads as follows:
Legend says that in this rocky piece, likened to the perched pigeon has possessed the spirit of the thracian maiden Peristera. The fortress bears its name, which in translation means pigeon.
The fortress has a strategic location and has been attacked many times. The first pillage dates back to the 5th century. After the fortress is restored the entrance is deliberately narrowed to 85 cm, and the walls are reinforced additionally. It is assumed that the wall was 14 meters high. The traces of burning down can be seen today.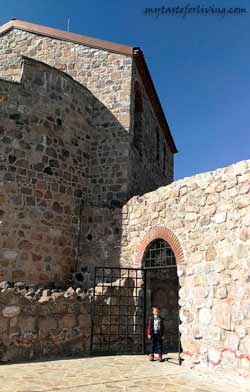 Before the restoration the fortress walls were preserved until 2.60 m. Along their length there are six towers: one triangular, two likes of churches and three rectangular. The unique for this place are the two towers – churches, because such a combination tower-church is not known yet within the boundaries of Bulgaria. It is believed to have been converted into churches during the time of Justinian I and is considered a precedent in the construction of the early byzantine period.
The other interesting that can be seen are the 45 pitosa - the jars, in which are preserved wheat, olive oil and other products, needed to feed the soldiers, guarding the fortress. About 80 pitosa were discovered by archaeologists during the excavations. Also found are many coins, garments of soldiers who have guarded the fortress, arrows, various types of ornaments, glassware and clay, etc. Part of them can see in the museum there.
The fortress is very easy to reach. There are separate signboards. Navigation can also guide you without a problem. For convenience, you can use the map below. There is a parking lot where you can park next to the property.